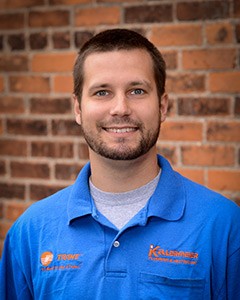 Zach
46 Reviews
Water Heater Installation in Bowling Green, OH 43402
"I was very satisfied with the work Zach provided. My new water heater was professionally installed, in spite of some space issues that challenged an easy placement of the new unit. I'm pleased my water is hot again and the volume is strong coming through every faucet. Thank you for making arrangements to have Zach come on the very day I called to describe the problem. Sharon Hanna, Bowling Green"
- Sharon H.
Air Conditioner Maintenance in Perrysburg, OH 43551
"Zach was very professional and calm. Explained or clarified questions when asked etc…."
- Phani K.
Gas Furnace Repair in Ottawa Hills, OH 43606
"Superlative, persistent and, by all indications, successful resolution to a nagging, ongoing problem. Technical expertise, patiently applied by Zach, would seem to have solved and laid the pathway for the ultimate repair. Thank you to all at Kellermeier who have helped."
- Kenneth F.
Ductless Mini-Split Installation in Maumee, OH 43537
"Overall fantastic service from start to finish! I'd like to thank the installation team, Rob and Rob, for their courteous and professional demeanor. I felt they exceeded my expectations, through skilled communications and workmanship all the way to the excellent clean up! Very impressed with the overall Kellermeier Heating and Plumbing Experience and will use again if needed."
- Mary S.
Plumbing Repair in Bowling Green, OH 43402
"I thought Zach did a thorough evaluation and handled himself professionally, answering all my questions keeping the clients best interest at heart."
- Mike F.
Plumbing Repair in Perrysburg, OH 43551
"Zach was friendly and courteous, knowledgeable and professional."
- Marc M.
Gas Furnace Maintenance in Bowling Green, OH 43402
"Zach has been to our home before. I find him friendly and professional — very competent. Always a pleasure to see him again."
- Joseph C.
Plumbing Repair in Monclova, OH 43542
- Douglas C.
Plumbing Replacement in Bowling Green, OH 43402
"Timely, knowledgeable, and courteous"
- Carol M.
Air Conditioner Repair in Perrysburg, OH 43551
"Zach was prompt and professional and was able to locate the problem and fix it for the time being. We thank him for his service!"
- Emily G.