Hiring a qualified, experienced, and honest plumber is an important step for a homeowner. It is important to find a plumber who knows what he/she is doing. A plumber is responsible for parts of your house that are crucial to your daily life.
We hold our plumbers to the highest standard by requiring ongoing training, education, and testing.
Whatever your plumbing needs, with Kellermeier Plumbing & Heating you can be sure your home is safe and comfortable, and we will provide detail-oriented, honest work. Below is a description of each service we provide:
Bathroom Plumbing
Bathrooms generally have three common fixtures: a tub/shower, toilet, and sink. We install new fixtures or service, maintain, or repair your current ones. Do you have a leaky or clogged tub drain, running toilet, or water hammering? Call us today for your bathroom troubles!
Kitchen Plumbing
Your kitchen often has more plumbing fixtures and more complex fixtures than your bathroom. Your refrigerator water dispenser, garbage disposal, dishwasher, and sink are all plumbed systems in your kitchen. We install new fixtures, and service, maintain, and repair any existing ones.
Bathroom and Kitchen Installation and Remodel
Do you have a new construction bathroom or new kitchen? Are you remodeling your current bathroom or kitchen? Don't use old or outdated pipes and fixtures! We specialize in new construction and replacement plumbing.
Water Softeners / Treatment
Hard water is defined as when a lot of calcium, magnesium, or other minerals are present in your water. Hard water causes mineral buildup on the inside of your pipes, water heaters, and other small appliances that use water. Hard water also keeps soap from lathering and creates a sticky scum on your fixtures. Kellermeier Plumbing & Heating installs water softeners to combat this for you. If you think you have hard water, call us at 419.823.1394, and we can come out to your home and make recommendations for maintenance.
Garbage Disposals
Garbage disposals are a great way to get rid of food waste in your home. The blades in a garbage disposal chop up the food you put down the drain into small enough pieces to wash out the main drainage line of your home with the rest of the waste. We can maintain, install, or repair your garbage disposal.
Sump Pumps and Backup Systems
Generally, if you have a basement, you should have a sump pump. It is the last line of defense in your home against water in your basement. We install, maintain, repair, and service all sump pumps for your basement.
Flood Guard Basement Protection System
is "basement protection at its finest," utilizing a two-pump system that assures you will always have a backup pump if one fails or the flow is more than one pump can handle. Unlike other systems, Flood Guard alternates both pumps to increase lifespan and keep one from sitting dormant. Flood Guard also has the ability to bring on both pumps at the same time if there is a large influx of water into the pit. With Flood Guard, if a pump fails or both pumps are required to keep up with the water flow, it will alert you with a loud audible alarm.
With the original system still working from over 30 years ago, it is reliable. Flood Guard was designed by and is only available from Kellermeier Plumbing & Heating. Keep your home and belongings safe with "basement protection at its finest," and have a Flood Guard Basement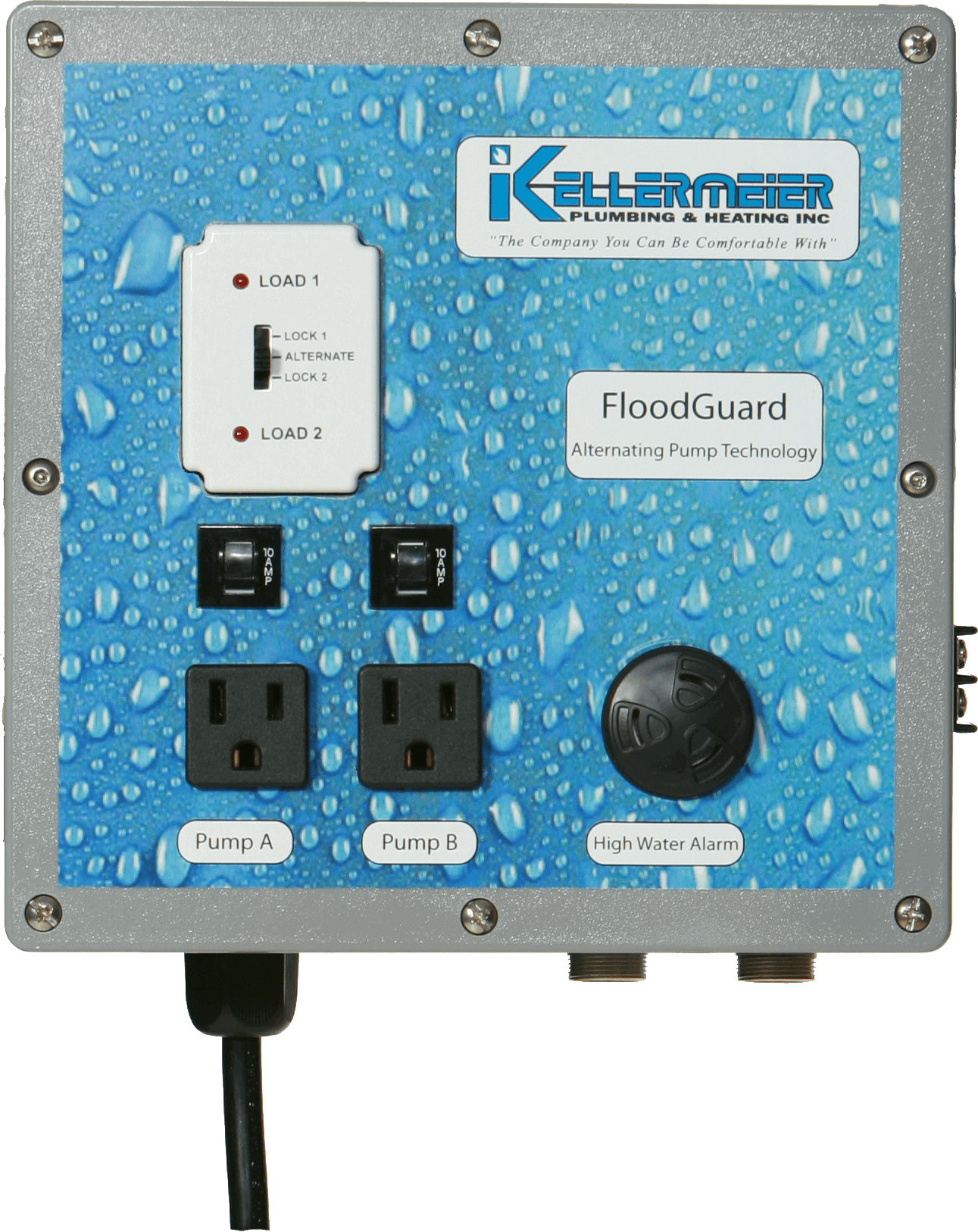 Why Use Flood Guard?
Over the years, we have found that most basements flood due to sump pump failures, not power outages. With this in mind, we have developed the Flood Guard System.
Flood Guard utilizes two pumps and a control system to provide a backup if a pump should fail. Flood Guard has a lower level control that brings on a pump under normal conditions; on the next call it will alternate and bring on the other pump. Alternating the pumps keeps both of them exercised and increases their life.
Flood Guard then has a high-level control that if activated, will bring on the other pump. This is used if one pump fails or if the water demand is too great for a single pump to handle. When the upper-level control is activated, it will send out an audible alarm to notify the homeowner that the upper level has been reached and there may be an issue. All of this adds up to "basement protection at its finest."
Features & Benefits
Prevents basement damage if your sump pump fails
Gives you peace of mind when you leave your home
Provides a backup sump pump
Provides an additional pump for extra capacity for heavy rains
Controls pumps automatically
Provides an audible alarm if pump fails or extra capacity is needed
Alternates pumps to keep them both exercised
UL listed components for reliability
Diaphragm pressure switches, nothing to catch or bind
Pumps have individual circuit breakers to protect primary circuit
Corrosion resistance with stainless steel hardware
Will work in conjunction with water powered backup pump
Original systems have been in operation for 30 years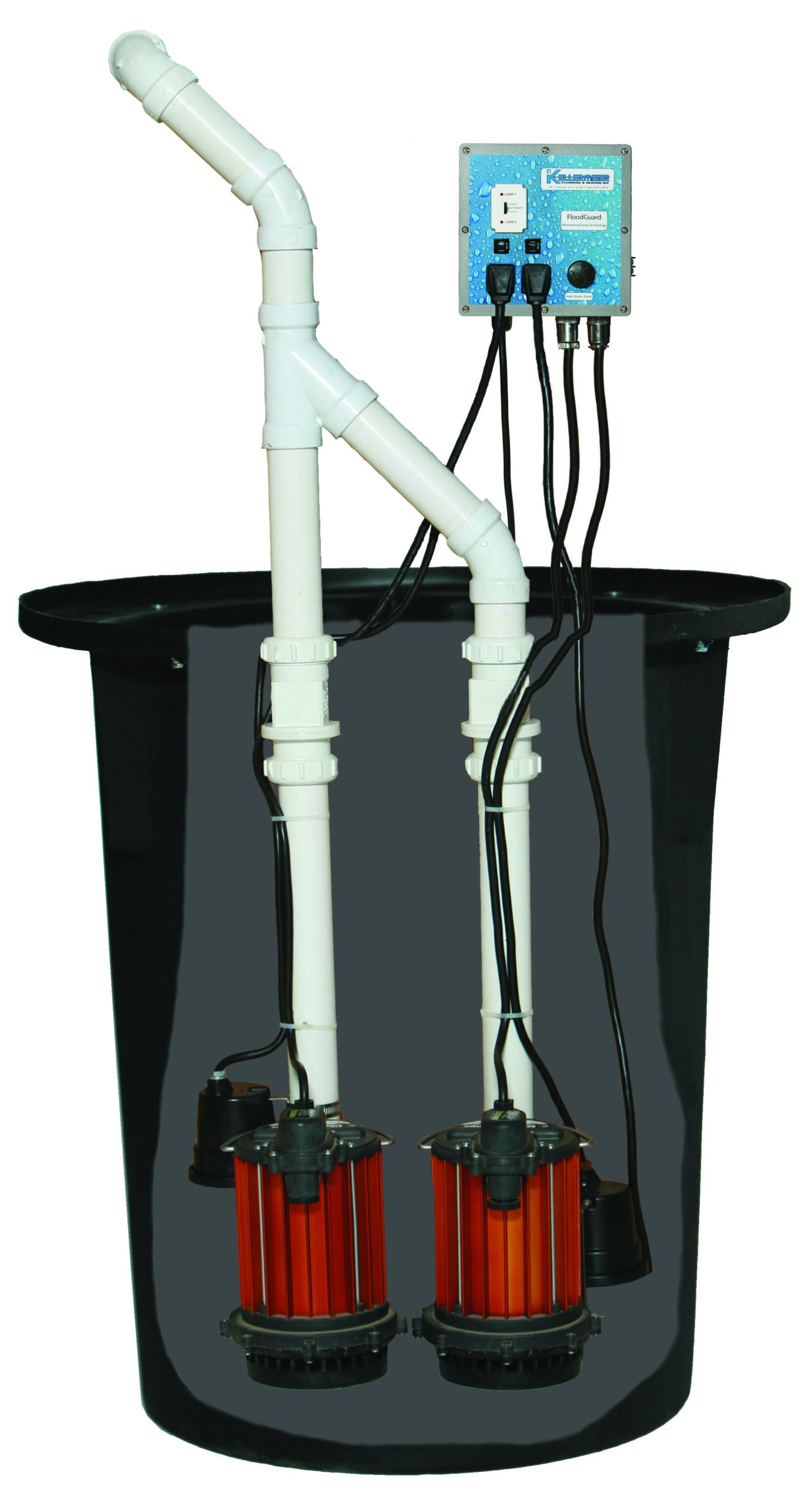 Water Heaters
Gas or electric, we can install, maintain, service, or repair your water heater. Do you need service on your current water heater, or are you interested in installing a tankless water heater? Whatever your needs are, we are here to help.
Frozen Pipes
Frozen pipes can lead to burst pipes. When water freezes, it expands. As it expands, it presses on the walls of what's holding it in, in this case a pipe. Due to increasingly complicated plumbing systems, a burst pipe can cause catastrophic damage and make a home or office space uninhabitable for weeks. Fortunately the experts at Kellermeier Plumbing & Heating are here to help you prevent frozen pipes or repair burst ones.
Leak Repairs
Leaky pipes can damage your home. At , we are experts in detecting leaks before they cause too much damage to your home and in repairing them before or after they become serious problems. Look for these signs that point to a leaky pipe: water meter changes, spongy floors, mildew smell, or cracks in your floors or foundation.
Pipe Replacement
Pipes, like the rest of the inner workings of your home, need replacing at some point. Usually you get 30 or more years out of a particular set of pipes. Repiping your home is not a simple undertaking––you need technically skilled and licensed professionals to do the job right. Fortunately the technicians at Kellermeier Plumbing & Heating are experienced and trained to repipe your home safely and correctly.
Plumbing Repair in Other, OH 43443
"Chad completed the repair quickly and the price was under the estimated amount."
- Luann S.
Plumbing Repair in Toledo, OH 43614
"I appreciated Brian ' s honest, upfront manner. He clarified the costs before providing the services. The work was done efficiently and successfully. Thanks for a great job done!"
- Debra R.
Plumbing Repair in Toledo, OH 43614
"I appreciated Brian's honest, upfront manner. He clarified the costs before providing the services. The work was done efficiently and successfully. Thanks for a great job done!"
- Debra R.
Tankless Water Heater Repair in Toledo, OH 43606
"Wow … talk about fast, friendly, knowledgeable and cost effective … if you have a Navien system and you hate the company who installed it for you … call Kellemeyer today … they can fix anything someone else either installed incorrectly or just flat out broke … wow!"
- Angela M.
Plumbing Repair in Bowling Green, OH 43402
"Chad was very knowledgeable and helpful, suggesting options to fix our problem."
- Elizabeth W.
Water Heater Repair in Bowling Green, OH 43402-8744
"Kellermeirer staff is very friendly and understanding of the situation. Ken was great in explaining what he was going to do to remedy our situation. One nice thing is that if the tech needs a part another employee brings the part to the location. This saves a lot of time because the on-site tech can continue working while the part is being delivered"
- Chuck P.
Water Heater Replacement in Whitehouse, OH 43571
"We didn't have any work done today but I enjoyed meeting with Tim + other. They were very thorough and gave us some great tips. Very personable as well. Thanks for coming out guys."
- Briana R.
Water Heater Installation in Perrysburg, OH 43551
"I know the guys because they were both here before on my yearly service contract, but can't remember both of their names. They did a very good job installing my water heater and was quicker than anticipated. Friendly and polite!"
- Eva S.
Plumbing Replacement in Grand Rapids, OH 43522
"We had to have an old shower removed (22 years old) do to leaking through to a bedroom ceiling below. Old shower was removed and a brand new one put in place. Between Kellermeier and outside contractor they provided, we couldn't be more pleased. Everything looks fantastic and the ceiling in the bedroom looks like it did when house was built 22 years ago. New shower and fixtures look wonderful and work great! Great experience overall!"
- Brian D.
Plumbing Repair in Perrysburg, OH 43551
"Great service. Very fast response and covered repairs under warranty. Great people and company!"
- Cliff B.
Need Plumbing Service?
Contact the experts at Kellermeier Plumbing & Heating.
Call us at 419.823.1394!